The Community Garden opens for the season!
We loved celebrating the start of the growing season with an open house in our Community Garden! Nancy rolled out her garden cart and set up a smoothie station and made delicious, healthy smoothies for our residents and passed our heart-healthy whole grain granola bars. Our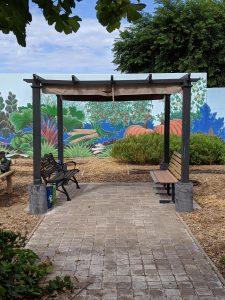 horticultural therapist Sandy gave tours of the garden and fascinated little minds with the heat from our compost bin. We even gave away a Ninja Kitchen blender!  Residents will have the opportunity to work with Sandy each and every Saturday and will learn how to grow delicious healthy vegetables and flowers that help our beneficial insects. Soon, we'll have a test kitchen where Sandy and others will talk about good nutrition and ways to prepare these vegetables. Thank you to all the volunteers fo
r helping and for all the
residents who attended. If you're interested in helping out in our beautiful Community Garden, message email us at volunteer@hof.5proofs.com. We look forward to next Saturday!