Mission Continues partners with House of Refuge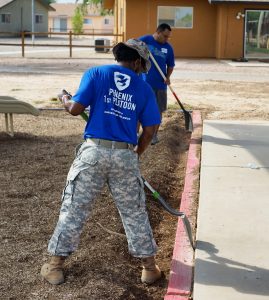 We are so thankful to all of the veterans, youth and community members who took part in The Mission Continues – PHX Service Platoons for their 9/11 Day of Service. More than 60 men, women and children spent their Saturday painting, building and cleaning. They repainted the playground & donation drop off dock, built benches, picnic tables, outdoor kitchen & garden islands, trash receptacles, and more! This remarkable organization is truly a blessing to House of Refuge and we cannot thank them enough. The work they did made a marked difference in our community and for the families we serve. Thank you, thank you, THANK YOU!!
HELP A FAMILY EXPERIENCING HOMELESSNESS
All funds are provided through federal grants, foundations, churches, service organizations and individuals. To keep our program vibrant and operating, financial and volunteer assistance is always appreciated.