Christmas in the Neighborhood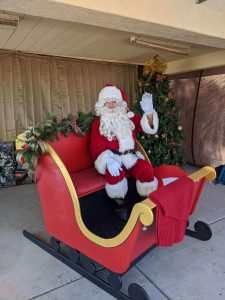 House of Refuge residents celebrated the Christmas season last weekend during our "Christmas in the Neighborhood" event. Staff and volunteers helped with cookie decorating, letters to Santa and crafts. Residents were treated to delicious breakfast burritos, cooked and served by Redemption Gateway church . After breakfast, residents could have their pictures taken with Santa, run around our Kaboom playground, enjoy the bounce house, visit the giant firetruck from the Mesa Fire Department and/or enjoy delicious hot cocoa all while listening to fun Christmas music provided by DJ Chris Booher from The Event Team.  Parents had the opportunity to shop for their children in our Santa's Workshop.  All of this was possible thanks to many, many volunteers and donations from SRP, Gateway Church of the Nazarene, Desert Financial, the Mikus Family, Tristan McBeth Eagle Project, House of Refuge Outreach group, Step Up USA, Highland High School Student Council, Christ Church of the Valley, Miller Small Group, Derek Natzke, and Ross Serold (aka Santa!).
HELP A FAMILY EXPERIENCING HOMELESSNESS
All funds are provided through federal grants, foundations, churches, service organizations and individuals. To keep our program vibrant and operating, financial and volunteer assistance is always appreciated.