Doing good in the neighborhood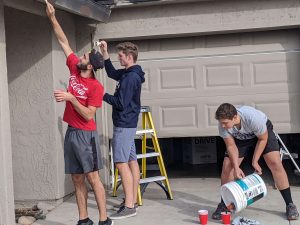 This holiday season has been busy in the House of Refuge neighborhood! The giving spirit is alive and well in all of the people and groups who have volunteered their time and talents by painting, landscaping, organizing, building and giving. We are so thankful to the following groups who have spent time in our neighborhood this holiday season:
AMWA
Desert Financial
British Swim School
Mikus Family
Tucker Family
Tristan McBeth Eagle Project
Redemption Gateway
The Event Team
SRP
Everton Ward
Outreach
Gateway Nazarene Church
Step Up USA
Topgolf Gilbert
Highland High School Student Council
Apex Home Solution
Christ Church of the Valley
LeSueur Investments
Miller Small Group
Mesa Fire Department Truck #215
Pastor Rod Marion
Derek Natzke
Ross Serold
Erin Courser
Mindy Elias
Roseanne Kuefner
Tracy Aposhian
Bruce Story
Chris Monson
Marilynn Blattner
Fausto Channave
Tamela Kemp
Isabella Frias
John & Johnna Switzer
Kim Catalanotto & Family
Rebecca Samford
Julie Lally & Family
Windrift Ward
Meadows Ward
Partridge Ward
Cooley Farm Ward
Fairview Ward
Deanna Haas
Natalie & David Kaufman
Jon Lilttlefield
Paula Coquelet
HELP A FAMILY EXPERIENCING HOMELESSNESS
All funds are provided through federal grants, foundations, churches, service organizations and individuals. To keep our program vibrant and operating, financial and volunteer assistance is always appreciated.