NFL standout to headline annual gala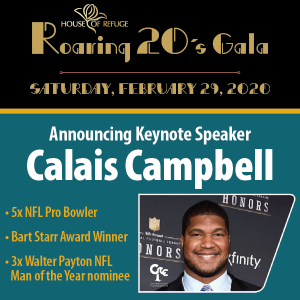 We are excited to announce that NFL standout defensive end Calais Campbell will be our honorary spokesperson at this year's annual gala "Roaring 20s." Calais is a former Arizona Cardinals and currently plays defensive end for the Jacksonville Jaguars. Calais has a heart for giving back and has established himself as one of the NFL's leading philanthropist. In 2010, Calais and his family founded "the CRC Foundation," committed to the enhancement of the community by teaching life skills to assist with the development of young people. Calais is the recipient of the distinguished Bart Starr award, which is given annually to an NFL player who "best exemplifies outstanding character and leadership in the home, on the field and in the community." Calais was also nominated three times for "Walter Payton NFL Man of the Year" and just weeks ago, was the recipient of that distinguished award. Calais said after receiving the award that he appreciates the platform playing football gives him to be able to give back and put a smile on a child's face. We look forward to hearing from Calais at our gala – CLICK HERE to purchase your tickets!
HELP A FAMILY EXPERIENCING HOMELESSNESS
All funds are provided through federal grants, foundations, churches, service organizations and individuals. To keep our program vibrant and operating, financial and volunteer assistance is always appreciated.