House of Refuge, Inc. receives grant from Charles Richard Campbell Foundation
Foundation established by Calais Campbell, 2019 Walter Payton Man of the Year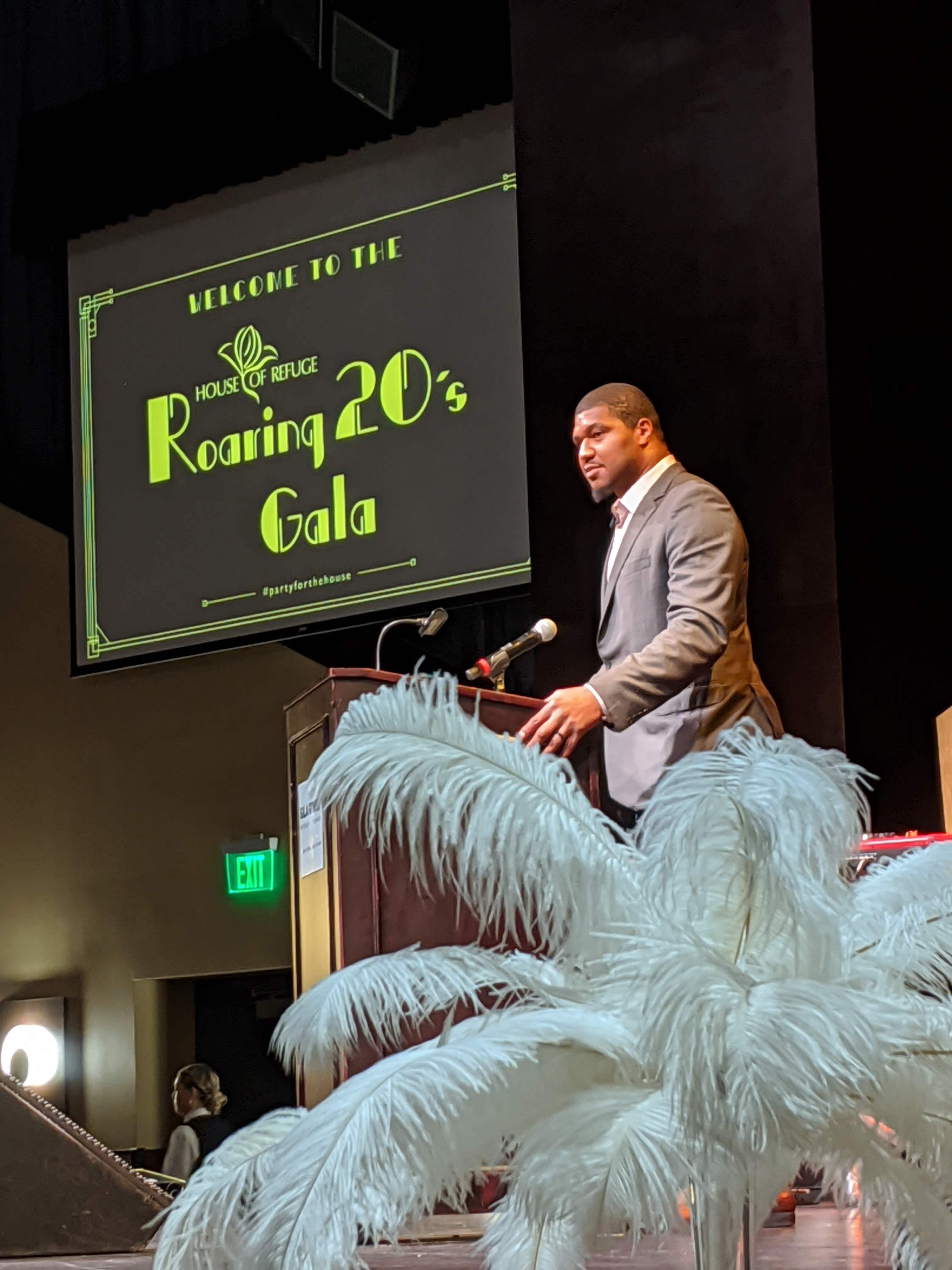 FOR IMMEDIATE RELEASE
March 3, 2020
Contact: Krista Cardona
House of Refuge
480-416-9740
House of Refuge, Inc. receives grant from Charles Richard Campbell Foundation
Foundation established by Calais Campbell, 2019 Walter Payton Man of the Year
MESA, AZ—The Charles Richard Campbell Foundation (CRC Foundation) has awarded a $55,000 grant to Mesa-based House of Refuge, Inc. The grant was announced Saturday evening at House of Refuge's annual fundraiser "Roaring 20s Gala," by CRC Foundation founder and Jacksonville Jaguar defensive end Calais Campbell. Campbell, who was named the 2019 Walter Payton NFL Man of the Year in February, presented a check to House of Refuge during his keynote speech at the event, on behalf of the CRC Foundation.
The CRC Foundation was founded in 2010 by the five-time Pro Bowl player and his family. Named after Campbell's late father, the Foundation is committed to the enhancement of the community by teaching critical life skills to young men and women.
Nancy Marion, Executive Director of House of Refuge was honored by Campbell's generosity. "One of our guests of the Gala noted Calais' larger than life size. I believe God had to make him that big so that giant heart of his would fit," Marion said. "Calais is a true example of gentleness and generosity that cares for all that cross his path. I cannot thank him enough for all he has done for House of Refuge and for being truly an incredible example for all to follow."
Campbell was the recipient of the 2019 Walter Payton NFL Man of the Year award, presented annually by the NFL to honor a player's volunteer and charity work, as well as his excellence on the field. NFL Commissioner Roger Goodell said of Campbell, "During his 12 season in the league, he has been a tremendous role model for the youth he serves through his CRC Foundation."
Campbell played nine seasons for the Arizona Cardinals, is a 5-time NFL Pro-bowler and the 2019 recipient of the Bart Starr award. More information about his foundation can be found at www.thecrcfoundation.org
House of Refuge, located in southeast Mesa, is a transitional housing community that provides homes and support services for families experiencing homelessness. A portion of all proceeds from their annual fundraiser support the agency's "Adopt a Home" program and which helps to provide the homes and services for families for one year. More information about House of Refuge can be found at www.houseofrefuge.org.
###
HELP A FAMILY EXPERIENCING HOMELESSNESS
All funds are provided through federal grants, foundations, churches, service organizations and individuals. To keep our program vibrant and operating, financial and volunteer assistance is always appreciated.