WHY VOLUNTEER
Our volunteer program significantly impacts our ability to serve families experiencing homelessness in our community. We continually have a wide variety of volunteer opportunities. We welcome both regular and one-time volunteers, individuals, and groups, to share your talents and skills. Below are the programs supported by our volunteers and events.
Looking for a group opportunity? Group projects include a variety of activities such as painting houses, landscaping, maintenance, food drives, and hosting activities for some of our reoccurring programs. View the group project tab below for more information.
Volunteer Requirements
Must be at least 15 years old
Must be 18 if volunteering in the Community Center
Over 18 years of age
Complete an ADES Affidavit
Be able to volunteer anytime during our open hours which are: Monday- Friday, 9am to 5pm and Saturday, 9am to 1pm
Sign up for our newsletter!
WHERE TO VOLUNTEER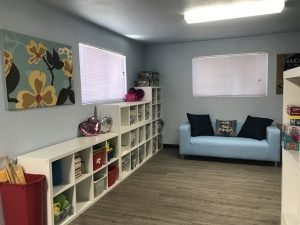 Our Community Center provides after school programming for resident youth, which includes homework help, STREAM (science, technology, reading, engineering, art & mathematics)-based activities, therapeutic activities, and mentoring programs. In addition to regular after school programming, various evening events are hosted during the week throughout the year.
To volunteer in the Community Center, you must obtain an AZ DPS Fingerprint Clearance Card 
This program utilizes volunteers Monday – Friday 3:00 pm – 6:30 pm during the academic year.
Our Donation Center provides the families we serve with the necessary items to begin again. Families have access to food, clothing, furniture and other household items. All items families "shop" for at the Donation Center is theirs to keep when they move on from House of Refuge. The Donation Center also has a "toy closet" where parents can shop for a child's birthday.
Volunteers at the Donation Center will sort and organize donated items, clean areas of the Donation Center and assist families and members of the community who are picking up food boxes and other items.
If your organization is interested in hosting a food or clothing drive, please contact us at volunteer@houseofrefuge.org
This program utilizes volunteers Monday – Friday 9:30 am – 4:30 pm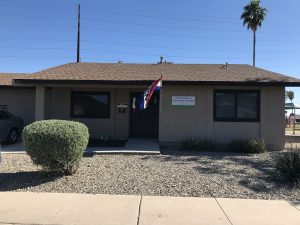 The Employment & Education Center provides residents with internet access, fax machine, copier and computers. Staff at the EEC plan special classes for residents on a wide variety of topics including financial literacy, parenting, resume building, job readiness, self-care and early literacy. Volunteers can assist with any of our programs in the EEC, assist residents in their job search, resume building and interview skills.
This program utilizes volunteers Monday – Friday 9:30 am – 5:00 pm.
Outreach is a group of men and women who believe strongly in the House of Refuge program and are committed to raising community awareness and funds on its behalf. We are interested in both friend-raising and fundraising for House of Refuge.
We are a small group with big ideas, looking for individuals with willing hands, creative minds, and a little time to donate for a great cause. There are many ways to help on any given project, and you can choose when and how you want to participate. Here are just a few possibilities:
Represent House of Refuge at a local Chamber or community event
Promote House of Refuge through social media platforms
Collaborate in brainstorming ideas for public relations and fundraising
Become an ambassador for House of Refuge in your neighborhood and community network
Join or chair one of our three committees: Membership, Fundraising/Events, or Community Awareness
And remember that all your efforts will help provide transitional housing and support services for homeless families in need!
Meetings are held at House of Refuge on the third Monday of each month at 6:30 PM. Feel free to join us for a meeting and get to know us a little. We welcome all guests and there is no pressure to join. For more information, email outreach@houseofrefuge.org
We welcome any and all size groups to House of Refuge! Whether you're part of a church, business, or philanthropic organization, our Community Outreach Coordinator can help plan a group project that will benefit the residents in our community. Some organizations will organize group projects as part of a team building exercise or corporate-wide "day of volunteering." Projects can be a one-time event or an ongoing, regular project in our community.
We also welcome all Boy Scouts and Girl Scouts troops for community projects, Eagle Scout projects and Bronze, Silver & Gold award projects.
Email our Volunteer Coordinator.
to begin planning your group project!
VOLUNTEER PROGRAM UPDATE
Our Volunteer Program is back up and running at full speed ahead!
For those who were part of our volunteer program "pre-COVID," a BIG Welcome Back to you!! And welcome to those who are interested in learning more about our volunteer programs and joining this incredible team who makes a difference each and every day in our community.
Miracles happen each and every day in the House of Refuge community and we welcome volunteers to help advance our mission! We have volunteer opportunities throughout our neighborhood from working with kids in our Community Center to organizing and processing donations in our Donation Center. If you enjoy filing papers or other desk duties, we have an opportunity for you!
As an organization that operates as a
Service Enterprise,
we fully leverage volunteers to help deliver on our mission. We integrate volunteers throughout our organization, track volunteer hours, and can measure the impact volunteers have on our program. Simply put: when you decide to donate your time and talents at House of Refuge, know that those hours are spent doing meaningful, impactful work – we count on it!
Videos on Trauma Informed Care
Contact our volunteer coordinator at volunteer@houseofrefuge.org for more information about our volunteer program and to learn about the many opportunities we have in our neighborhood for volunteers!
Next, complete all required paperwork
Once we receive your application and all required forms, our volunteer coordinator will "assign" you to your opportunity and will work with you on a schedule.  In the meantime, view our website to learn more about our programs and sign up for our newsletter. We can't wait to see you in our community!
OVER 20 YEARS OF CHANGING LIVES
We invite you to see our community, learn our story and join our mission to change the trajectory of a family's life forever